It feels like it's been a while since I did one of these movie lists. Been compiling a pretty big list of really interesting upcoming movies over the last couple of months.
Back in october or something I noticed that there were a pretty large amount of post-apocalyptic movies being made so I decided to do a list of only PA movies. This list then just kept growing week after week after that and I ended up with a pretty huge list of movies. I was thinking about doing maybe two separate lists but figured there wasn't really a point now when I was finished with the whole thing.
So here goes, a massive big list of 24 apocalyptic and post-apocalyptic movies (and one tv-show) I really really want to see.
----------------------------------------
----------------------------
The Vanishing on 7th Street
The latest movie by The Machinist and Transiberian director Brad Anderson. I've liked all his movies but not found them truly great. I've felt there's always been potential for greatness but he hasn't got there yet. When I heard he was doing a post-apocalyptic movie where humanity has been swallowed up by shadows or something my interest was peaked. Unfortunately reviews has been lukewarm but I still have hopes it will be worthwhile.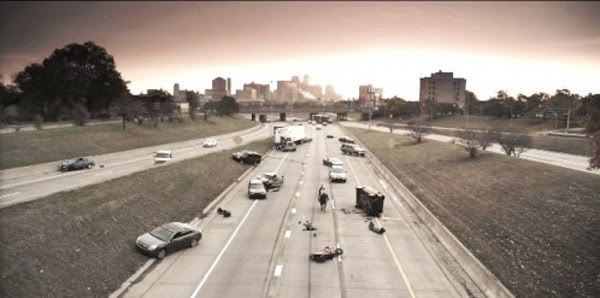 http://www.youtube.com/watch?v=mQpwz5L6d5I
Perfect Sense
Here's a pre-apocalyptic movie starring Ewan McGregor and Eva Green as two people falling in love during a global pandemic threatening all of mankind. The trailer doesn't really show much of the pandemic but I promise there is one in the movie.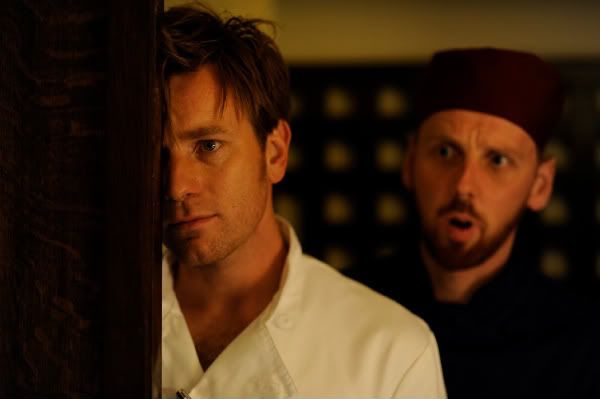 http://www.youtube.com/watch?v=GWOlvyz_c2M
Stake Land
A couple of years ago I saw the were-rat outbreak movie Mulberry Street by director Jim Mickle and enjoyed the crap out of it. Probably one of the best zombie films without actual zombies. This is the directors next movie and it's set in a post-apocalyptic world overrun with bloodthirsty vampires. It's seems to be getting a good buzz around film festivals and seems to be generally praised. I'll be happy enough if it's just as good as Mullberry Street.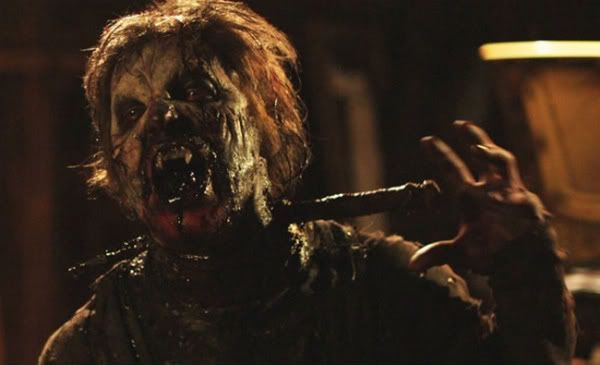 http://www.youtube.com/watch?v=Agh3rFtF294
Zenith
Not sure what's going on in the trailer but apparently the movie follows two different storylines 40 years apart. Something about a conspiracy or something. The part in the future looks pretty post-apocalyptic and the movie doesn't look too shabby. Not too cheap at all. No idea about the story though.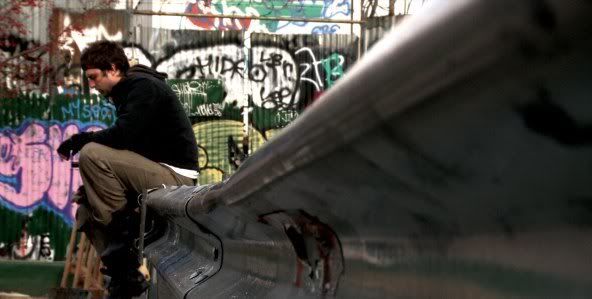 http://www.youtube.com/watch?v=spmapJudtCg
White Out
White Out is a movie set in Scotland this coming summer, only this time the cold climate of winter never ended and it's still snowing and stuff way into the summer. This obviously messes things up in the world and it is this the movie is supposedly going to tackle realistically. An interesting premise but what really got me interested is that the people behind this was also behind the wonderful short film series Morgan M Morgansen. Those shorts are seriously fantastic.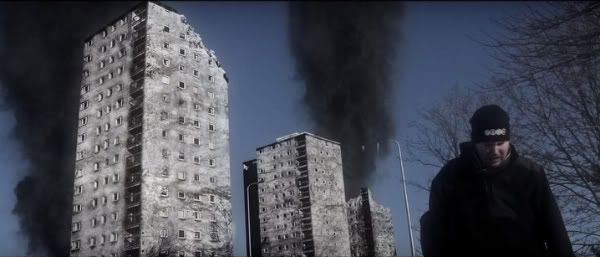 No trailer out yet. :(
One Hundred Mornings
One Hundred Mornings is a post-apocalyptic human drama from Ireland. The world has ended somehow and a small group of survivors are living in a cabin somewhere trying to cope with it all. Nothing flashy or anything but it could be an interesting depressing drama about a small group of people getting insanely tired of eachothers company.
http://www.youtube.com/watch?v=gRDiqinG8Ow
Priest
Hey, another vampire apocalypse movie. Unlike Stake Land which is more of an indie movie this is straight from hollywood. You'll have a hard time finding anything original in the trailer, it looks like a big mash-up of all kinds of action and sci-fi movies like Blade and Judge Dredd. But an asskicking priest killing vampires in a futuristic post-apocalyptic western setting should atleast be entertaining in some way.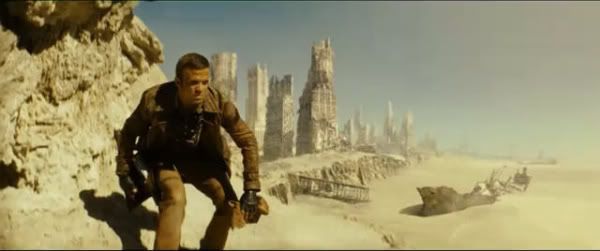 http://www.youtube.com/watch?v=-VNczhWD2ao
Invertebrate
I don't know too much of the story for this one. I only really know what the teaser there is showing and that is a crapload of giant bugs that has taken over the world or something. The effects seems to have been done using real bugs on very detailed models. It could end up hilariously crappy with the actors or actually quite gorgeous. I've always been more fond of physical effects over CGI. I'm curious and hopeful about this one.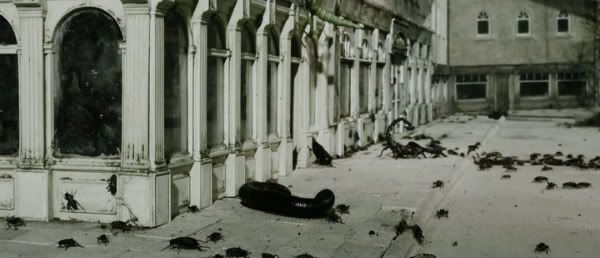 http://www.youtube.com/watch?v=Lp88zfYo9zY
Mennesker I Solen (People In The Sun)
Here's a norwegian comedy set around a beach resort just when the world is about end. Don't know much else but the effects looks pretty great for a movie from Scandinavia. After Dead Snow and the upcoming Troll Hunters from Norway the country really seems to be getting into making genre movies. Hopefully this rubs off into Sweden.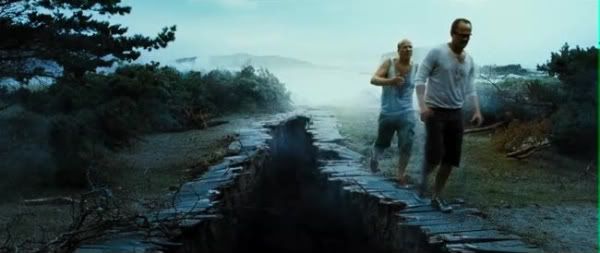 http://www.youtube.com/watch?v=R_9vYx8CqXk
Take Shelter
This might not really have the world ending but it's about a man that goes batshit crazy thinking it isafter getting strange visions. He starts building a shelter and is pretty much freaking everybody out including his family. Apparently Sony Pictures is having great faith in the movie so this might be getting some hype soon enough.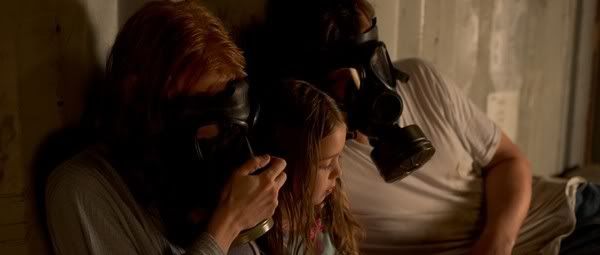 No trailer out yet. :(
Our Brief Eternity
This japanese movie follows a young couple trying to regain their relationship after a virus that makes people forget the most important people in their life wreaks havoc around the world. Hopefully this is a more human and fun movie like Eternal Sunshine of the Spotless Mind instead of some painfully slow and arty movie.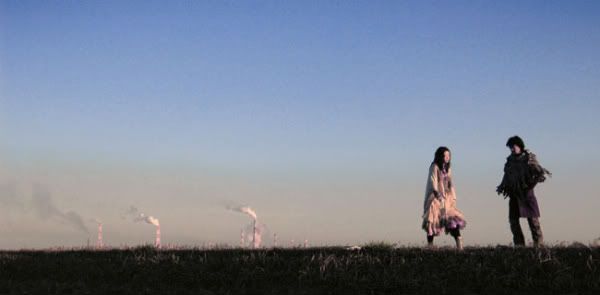 http://www.youtube.com/watch?v=CIiw99qS378
The Last City
This used to be called Tribes of October and it looks like a crazy everything goes post-apocalyptic noir story with beautiful stylized visuals. It's set in the only remaining city after a solar flare has cooked the earth. The clip below is from some sort of promo thingy and might not actually show anything that will end up in the movie. It reminds me a bit of Sin City which is good enough for me.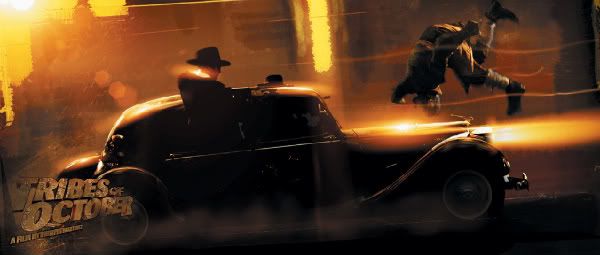 http://www.dailymotion.com/video/xda7eo_lastcity_shortfilms
The Day
I recognize maybe half of the cast of this little indie post-apocalypse movie. There's Dominic Monaghan from Lord of the Rings and Lost, there's the guy who played Iceman in X-men 2 and there's Shannyn Sossamon which I only know from her being gorgeous. The movie is apparently set during a 24h timespan where a small group of scavengers are trying to fight off some other group. A small intense battle movie could be good if it's done right and this does look pretty good. Nice cinematography and everything.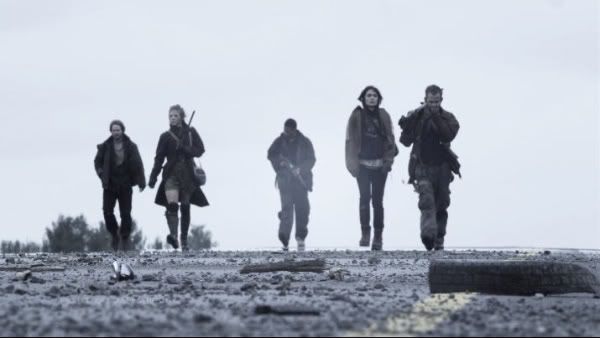 http://www.youtube.com/watch?v=lUA_eyieFGU
Dragon Day
While I don't find the prospect of China taking out America by introducing some sort of computer virus in every computer chip they've made even remotely likely. (Seriously, that would mess up their own economy pretty badly too.) It could however be an entertaining enough movie and I'm well versed in the ancient art of suspension of belief so I'll probably really like this. I doubt China will though.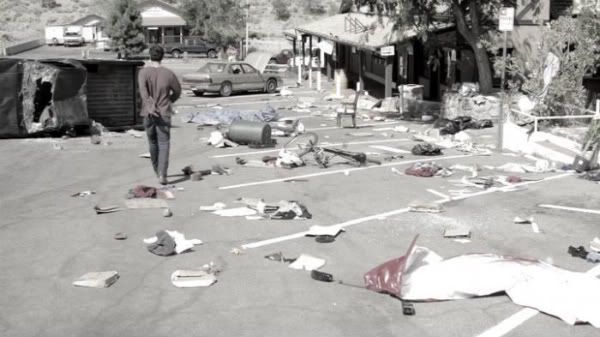 No trailer out yet. :(
The Collapsed
The Collapsed follows a family trying to survive after the world has ended. And to make things even worse they seem to be hunted by something or someone. Can't really see anything original in this but it doesn't look cheap or anything so it could be good enough.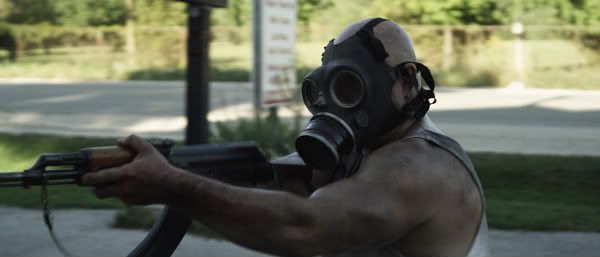 http://www.youtube.com/watch?v=Krb8VjnrtmQ
2084
About a group of people going insane or something in an apartment house after they've been sealed inside the city for unknown reasons by the government. That's pretty much all I know. Could be good.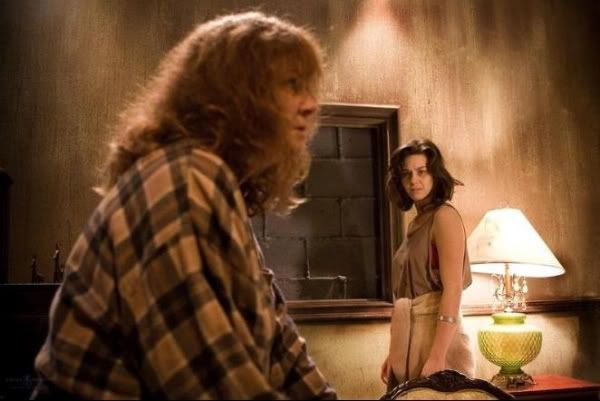 http://www.youtube.com/watch?v=vQzulg6_2Bg
Dust
This seems to be a really calm, silent and thoughtful drama about either a young couple or a brother and sister living after the world has ended. It reminds me a bit of Glen & Randa with all the shots with pretty much no dialogue. Them just eating and swimming and stuff. Things turn bad when they find a mysterious stranger by the road which creates a rift between the boy and girl when she seems to get interested in the guy. There's some really beautiful haunting images in the trailer.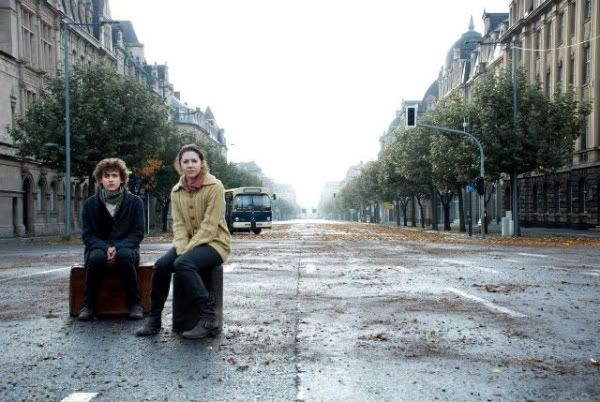 http://www.youtube.com/watch?v=_bzmK2nhYjw
Dead Season
Oh hey, the first and only actual zombie movie on the list. That's kind of surprising. Anyway it follows those few lucky people that manages to get to one of those tempting islands during a zombie apocalypse. There's some nice slow shambling zombies and the cinematography looks great. Hopefully they had enough money to fund a decent amount of zombie carnage.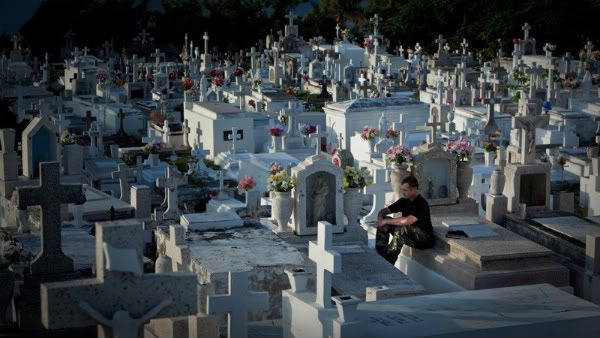 http://vimeo.com/15247156
The Divide
This is the latest movie by Xavier Gens, the french director behind Frontiere(s) and Hitman. I haven't seen Frontiere(s) yet but I wasn't too fond of Hitman. It wasn't terrible but not really good either. The Divide is about a group of people who survives a nuclear attack by hiding in some basement. They end up getting stuck there for some time and in the end has to survive not only the fallout but also mysterious gasmask wearing soldiers trying to kill them. As I have only seen Hitman before I'm not sure what to expect, but the trailer is has some gorgeous imagery.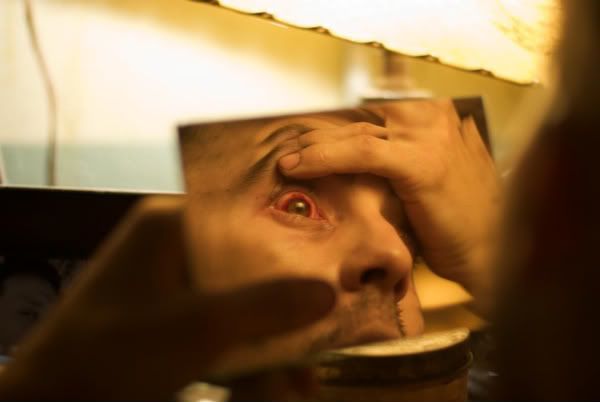 http://www.youtube.com/watch?v=LJCxT2d5hzk
End of Animal
End of Animal is a korean movie set after all forms of electronics has stopped working. It follows a female taxi driver that right before the blackout had a mysterious customer who prophesized it all just moments before it started. The movie follows the woman as she wanders the countryside meeting all sorts of strange people. It's been getting great praise and it sounds original enough so this could be really interesting.
No trailer out yet. :(
Falling Skies
Not really a movie but a tv-show, but it looks pretty good so I decided to add it anyway. It's produced Spielberg and is about the last remaining humans trying to live and fight back after a successful invasion by aliens. Kind of like a post-apocalyptic Red Dawn with weird aliens instead of commies. And the aliens does look atleast a bit alien, not entirely humanoid at all which is a nice change. I'm cautiously optimistic about this one.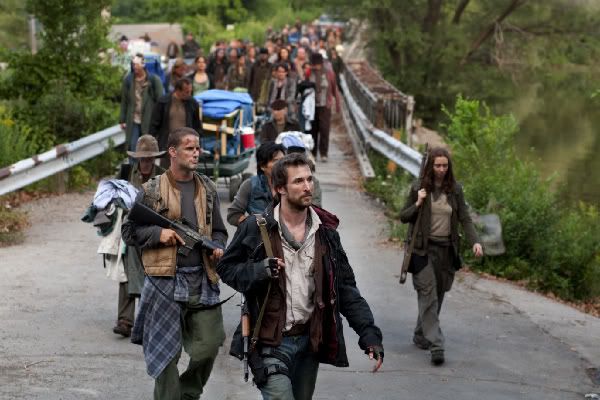 http://www.youtube.com/watch?v=MP7vrlvu9qk
Отторжение (The Rejection)
The Rejection a russian post-apocalyptic movie where the twist seems to be that the only survivors are all suffering from some sort of amnesia. No one knows what has happened or why the sky is strangely green. The trailer is interesting as it starts out as a regular post-apocalypse movie with the protagonist walking around abandoned cities, but then suddenly turns into some sort of quirky love story and then abrubtly ends with as a horror film. If the actual movie is the same it could either be interesting or really terrible.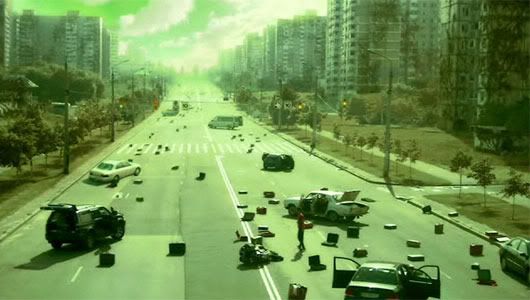 http://www.myspace.com/video/vid/57021943
Jay and Seth vs. The Apocalypse
Here's a comedy written by and starring Seth Rogen and Jay Baruchel. It's about two friends living through the apocalypse and was originally just a short film but they're in the progress of expanding it into a feature film. Even though the market is indeed a bit oversaturated with Seth Rogen I'm not one of the many Rogen-haters around the internet these days. I really have enjoyed his movies. Some of the best comedies in recent years has been written by him and his friends so a movie which is also set in one of my favourite genres is of course welcome. The trailer here below is for the short film.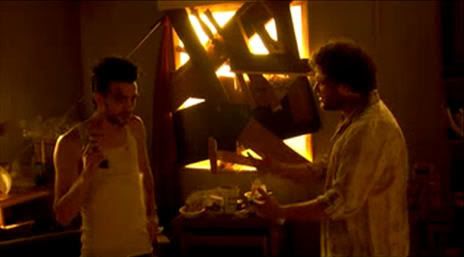 http://www.youtube.com/watch?v=ehNFPShWTsg
Los Santos Sucios (The Dirty Saints)
This is a post-apocalyptic movie from Argentina which I have found very little information on. There's no trailer out sadly, but the few photos of the movie I've seen looks gorgeous as do the footage from the news report on the movie that you can find at the link below.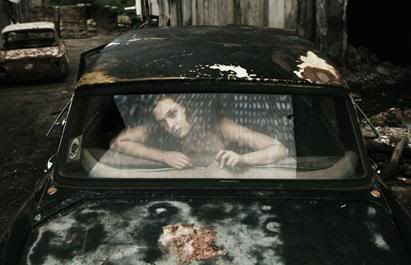 http://www.youtube.com/watch?v=-tvtdyDfPOM
And that's it.
I hope you all enjoyed this extra long list and found something that looks interesting.