I think the job interview at McDonalds went pretty well, the people there seemed nice! And I saw this really cute girl working there. =D I'm actually starting to hope I get the job now, I really need the money! :S
But I'm so damn tired (or sleepy) now =/ I tried going to sleep much earlier than usual because I had the interview so I went to bed at about 12 am, but then after two hours when I allmost fell asleep (finally) my frickin' cell phone rings! At 2 am!! It was this girl I used to talk to before, she was at some club (prolly a bit drunk) and were wondering why I haven't called and stuff.. that was weird... I'm like one of those guys that never call that you always hear girls complaining about in movies and stuff.. When the hell did that happen?? :S (besides, she could have called me... which I guess she just did.. hmm..)
Anyway, I couldn't sleep for about three hours after that so I only slept like three hours this night..
Yawn!
I guess I'll have to get used to that if I get the job... =/
In other stuff, here's the first two finished sketched out pages of the short comic me and my sister is working on (written by me and drawn by her), she sent these last sunday with four more pages that I'll post later on.
I think she's done some amazing work here, it's the first actual comic script (as in not a strip) I've written and I think it's the first comic she has drawn, so this is our first comic ever I guess. (hopefully not the last)
The only thing I've done here is writing and describing what happens in each panel on every page, so you can praise the art and stuff (and I'll tell my sister) but what I really want to know (and this might sound really egocentric) is if the the work I've done actually works? I guess that's only the pacing or something so far considering there's no dialogue and it's just the first two pages of a 12-page story, but I'm curious on how I'm doing so far.
Anyway, here's the first two sketched out pages of our short comic: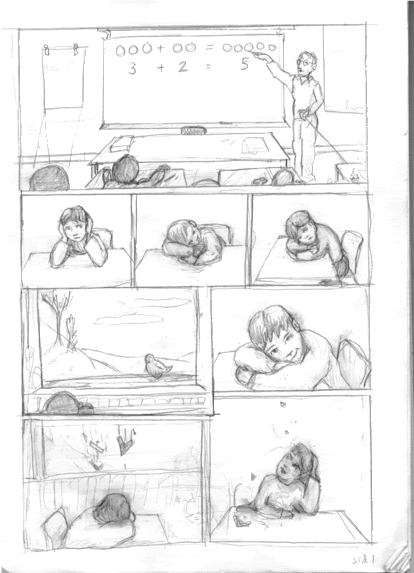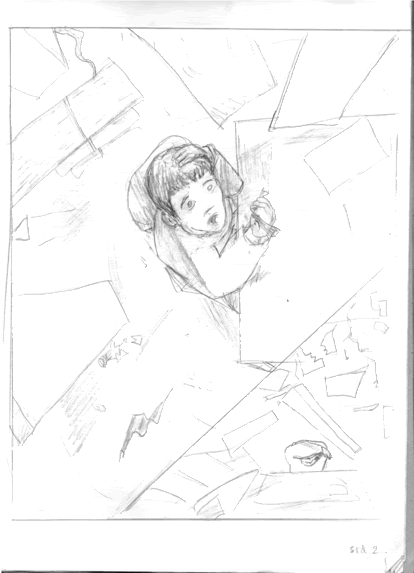 Yes, that's the roof collapsing over the kid on the second page, also, we're going to change the second to last panel on the first page, and probably other small things, this is just a sketch to see how it all reads.
So, whatcha think? It's going to get alot weirder and depressive after this.. :D
hmm, I'm really hungry.. I've only eaten microwaved pizza slices and toast the whole week.. bluh.. :S Now I'm gonna go watch Veronica Mars, we're up to episode 5 of the first season here, it's okay so far..