Just got back (more or less, about 2 hours ago really..) from watching my second movie of the Festival, which was A History of Violence, directed by Cronenberg and based on the Graphic Novel.
Great flick, only negative thing I can think of at the moment was the soundtrack, other than that a solid film. Made me want to check out the GN!
I give it a;
8 out of 10
Recommended!
So, two good out of two movies seen, I'd say that was a good start!
Tommorow, a scottish movie by the name of Festival, which takes place during the Edinburgh Film Festival, got sort of mixed reviews, the first real gamble of the festival. If that's crap I still have another movie that night, Rob Zombies, Devil's Rejects, which I think I'll like. Didn't mind House of 100 Corpses that much, entertaining enough movie, and I've been told this should be better.
I'll see that movie at about 11:30 pm, after the movie I might just meet up with some friends that are out that night. Maybe just to laugh at them being drunk... or them laughing at me for having no money for alcohol...
Oh, and here's a photo of me mum after a hard days work!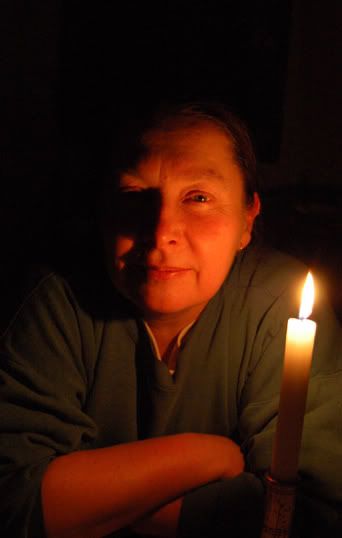 Took this just seconds before I left to see the movie today and just wanted to post this because I like the light in this photo. (oh, and I like me mum aswell of course..)