Hmm, not sure I should post this yet, been doing so many alterations and stuff, but I really want it to be finished now, so I think this'll do. This is version 6.3 of the strip, or uh, comic, or.. you can still call it a strip right, even with 8 panels?
Anyway, at first this was going to be just another three panel strip, but that didn't work so good, turned into a bunch captions of text in every panel, more or less telling you what happened. I wanted to tell it more visually, so I added another panel, and then another, and then yet more.
I ended up with six panels, and the colors were more blue, but it still didn't seem right somehow, I decided to look over it again next day. I did that, and ended up redoing the whole thing more or less, smaller panels, re-aranging things, pacing it out more and removing all of the narration.
I still wasn't sure about the strip though, and decided to wait yet another day to look it over again, even contemplating scrapping the whole thing.
The next day I started changing all the colors, spent alot of time trying out different color combinations (allmost had a bright orange background :S) and I added two round empty panel-thingys to make the comic a nicer shape graphically. And I thought to myself, hey, I can put a title there, maybe something that makes it clearer that this takes place in the hostel, and, well, as you can see I did that.
I liked how that came out, graphically I mean, it makes it look alot more un-pointless than it really is, which might work against the comic, I'm not sure..
Anyway, here it is, a really big strip that might irritate alot you when you check your friendslist, sorreee, but my HTML-skills are non-existant to be able to make some sort of thumbnail..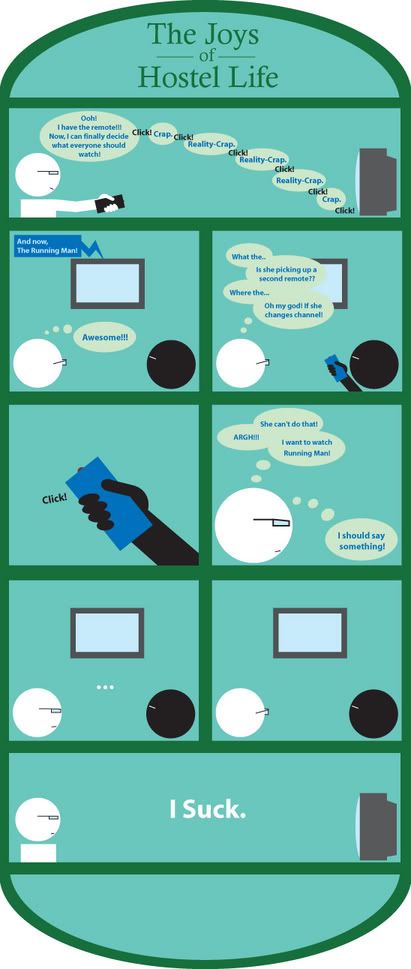 Man, I was so irritated when she did that. She was this really un-social south-african, that seemed to spend her entire days in the hostel, doing nothing, I still don't know why she was in London :S
I usually had the remote though, no-one really wanted to be in charge of what everyone should watch, you really started to feel responible for all the crap on tv when you were the one deciding what everyone should watch and ended up watching Eastenders or something.
And I have no idea where she found that other remote, that was weird. She could have just asked me to change channel if she didn't want to watch that movie by the way, jeez, just changing channel like that, that's just lame. She changed to some documentary about Caesar and the rubicon and stuff, which was pretty interesting atleast..